In addition to regular meetings to discuss literary topics, the local Section group in Fair Oaks has hosted New Moon Salons over the past several years. We have tried to hold them at the time of the new moon at about quarterly intervals in the year – or at times of major festivals. These salons feature music and literature, and they are a place where other friends and interested community members, who know nothing about the local Section work, can gather to enjoy artistic presentations, food, drink, and conversation.
"I do not know whence it comes," said Henry; "I have heard poets spoken of before now; but have never yet seen one. I cannot even form an idea of their curious art; but yet have a great desire to hear about it. I feel that I wish to know many things, of which dark hints only are in my mind. I have often heard people speak of poems, but I have never yet seen one, and my teacher never had occasion to learn the art. Nor have I been able to comprehend everything that he has told me concerning it. Yet he always considered it a noble art, to which I would devote myself entirely, if I should become acquainted with it. In old times it was much more common than now, and everyone had some knowledge of it, though in different degrees; moreover it was the sister of other arts now lost. He thought that divine favor had highly honored the minstrels, so that inspired by spiritual intercourse, they had been able to proclaim heavenly wisdom upon earth in entrancing tones."

  

— Novalis, Heinrich von Ofterdingen
"Blue" by Bruce Donehower
"Odysseus und Kalypso" Max Beckmann, 1943 Video Presentation by Bruce Donehower, Ph.D. Click here to watch the video....
"Owen Barfield: The Soul of a Word" In this 30-minute video recording from a Section for Literary Arts and Humanities...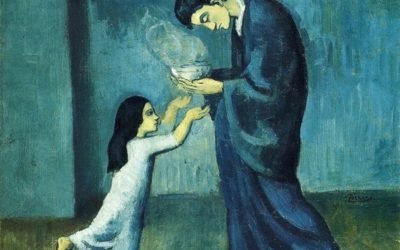 This 20-minute lecture video is from a Section meeting held in Fair Oaks on November 20, 2020. At the bottom of...
read more